Why vegan sneakers from NOAH make a difference
It's time to give our feet the attention they deserve. Vegan sneakers from NOAH are a more eco-friendly, ethical and comfortable choice than traditional shoes. This blog will explain how and why vegan sneakers from NOAH make a difference and help the environment, our feet and our wallets.
The world of fashion and footwear is constantly changing and more and more people are placing importance on sustainability and environmental awareness. One example of how fashion and sustainability can be combined is the vegan sneakers from NOAH. The introduction of these shoes to the market back in 2009 is an important step in the right direction and proof that it is possible to produce environmentally friendly products without sacrificing quality and style. The shoes are made from sustainable materials and are therefore also kind to the environment.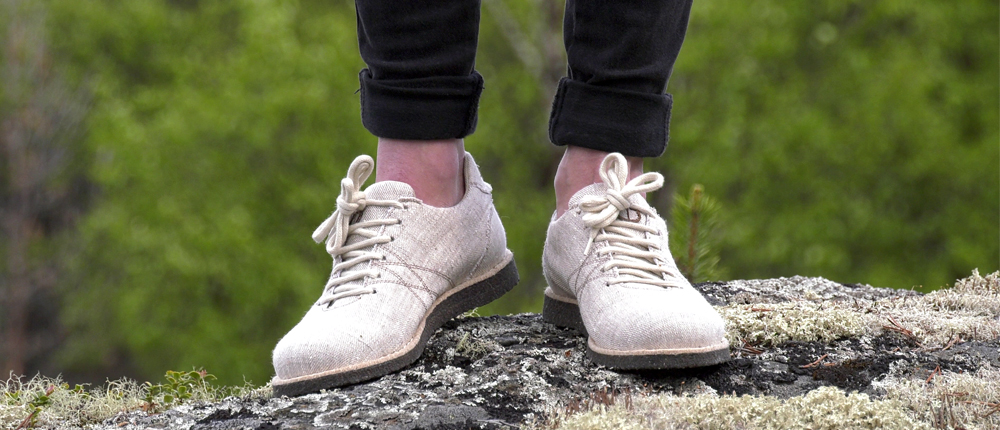 What are vegan shoes?
Vegan shoes are shoes that are made without animal products. This means that no leather, suede, fur or other animal materials are used in the production process. Instead, natural and synthetic materials such as linen, cotton, rubber, as well as microfiber, rubber, cork and other plant-based materials are used. Thanks to NOAH and many environmental organizations, information about the catastrophic impact of animal agriculture on leather production has become known in recent years, and thus many new alternative materials for leather have also come onto the market, which have a much lower environmental impact compared to leather.
Today, environmentally conscious people can find shoes made of wine, apple or pineapple leather, among others. So vegan shoes are not only good for animals, but also for the environment.
Another characteristic is that vegan shoes are often also made from recycled materials to a good extent, require less water and energy in production and thus also conserve resources.
Why the vegan sneakers from NOAH make the difference.
Due to the excellent quality of the selected materials and the careful processing in traditional Italian manufactories, the vegan sneakers, just like all shoes from NOAH, are not only comfortable and durable, but also environmentally friendly and ethically responsible.
As many know, sneakers, especially for very well-known brands, are mainly produced in China, Vietnam and some other Asian countries (https://www.bildfragen.de/wo-werden-sneaker-hergestellt/ https://de.statista.com/outlook/cmo/schuhe/sneaker/china). This is often done under very questionable conditions for the workers and the environment.
The quality of materials and workmanship is also questionable in these countries. This is reflected in longevity of the shoes, which often last only one season, if at all. This in turn creates waste, which is also not always disposed of properly.
NOAH expects all of its suppliers to comply with International Labor Organization (ILO) standards, including freedom of association, effective recognition of the right to collective bargaining, elimination of forced and compulsory labor and child labor, and elimination of discrimination in the workplace. All suppliers must sign our Code of Conduct, which addresses each of these standards.
NOAH's vegan sneakers are thus a revolutionary alternative to conventional sneakers, both in terms of quality and ethics.
Another difference from conventional sneakers is the design. NOAH's vegan sneakers are modern and timeless at the same time. They go with any outfit and are therefore versatile. Attention is also paid to high quality so that the shoes last a long time and are thus also sustainable.
Overall, vegan sneakers from NOAH are a great choice for anyone who wants to live environmentally conscious, animal-friendly, socially responsible and stylish.
Why are vegan shoes so important?
Vegan shoes are not only good for the environment, but also for our feet. Unlike traditional shoes, which are often made from animal products like leather, vegan shoes from NOAH are free from harmful chemicals and materials that can harm our feet.
Chrome tanning is the most widely used leather manufacturing process.
One of the largest tanning centers in the world, Hazaribag in Bangladesh, is ranked among the top ten most polluted places in the world. Workers, often children, work unprotected in toxic tanning broths, and wastewater enters rivers untreated. According to the WHO, nine out of ten workers die before the age of 50.
Leather tests by the German Federal Office for Risk Assessment (BfR) repeatedly reveal the presence of chromium VI in clothing and footwear, in some cases in more than 50 percent of the products tested. The BfR found the highest levels in leather shoes, leather gloves and leather clothing. Shoes for children were also affected.
The vegan sneakers from NOAH are made from high-quality, sustainable materials and are free from harmful chemicals.
How can people help promote sustainable fashion?
Sustainable fashion is an important factor when it comes to protecting our environment. But how can we as consumers help promote sustainable fashion? One way is to shop consciously and look for vegan products. Vegan shoes from NOAH are a good example of how sustainability and style don't have to be mutually exclusive. By buying such products, we not only support the environment, but also companies that are committed to sustainability. But awareness of the importance of sustainable fashion can also help promote it. By telling friends and family about it and advocating for sustainable fashion, we can help bring about a change in thinking in the fashion industry as well.
Conclusion
Overall, it can be said that vegan sneakers from NOAH not only impress with their stylish design, but also with their sustainable, animal- and people-friendly production. The use of high-quality materials and the avoidance of leather make them an eco-friendly and ethical product. In addition, they offer a high wearing comfort and are thus a good alternative to conventional sneakers. So if you don't only want to take care of your looks, but also of the environment and animal welfare, you should definitely choose NOAH vegan sneakers.